Tony Hancock's 90th Birthday - GB8TH Amateur Radio


---



Tony Hancock's 90th Birthday - GB8TH
The Coventry Amateur Radio Society operated amateur radio station GB8TH from his birthplace 41 Southam Road Birmingham.

GB8TH was operating from on the 12May 2014 only
Operation was mainly on 40, Metres SSB. 2 Metres FM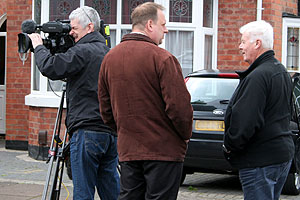 Alan Florence G7CDK (right in image) attended bringing his invaluable insight into the recording of the Blood Donor & The Radio Ham records. Alan was the recording engineer on the day.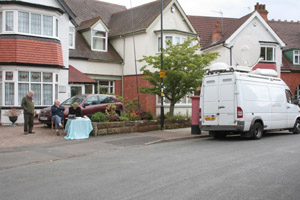 41 Southam Road with GB8TH & BBC Sat van.
This was a real media event starting at 07.45 with an interview on BBC CWR, followed by a further CWR interview with writer Alan Simpson (Of Galton & Simpson fame). As we suspected the writers did know a radio ham, to understand we do talk about the weather use valve numbers like DS19/87B. There was a live TV news feed at lunchtime, there was a really good piece for the evening news, using footage shot over much of the day the TV crew were with us.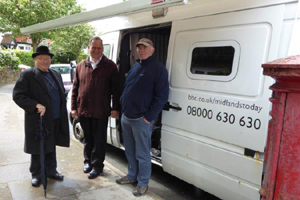 Brian G8GMU, Ben Sidwell, John G8SEQ

.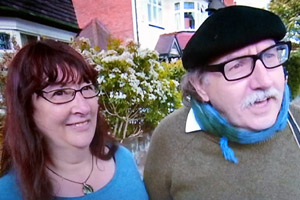 Local residents entering to the spirit of the day Alison & Steve Gove-Humphries,
as Grizelda Pugh & Hancock's Rebel Character. Who also came to out aid when it was
"ar raining here also" & provided a much needed gazebo. Many thanks! In fact the many of the Southam Road residents were more than helpful creating a magically friendly atmosphere.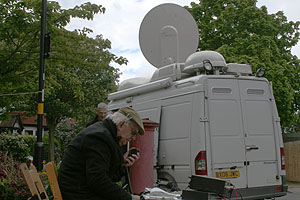 Bob G4GEE working hard to keep up with the number of stations calling GB8TH during one of the 'pile ups'.
We must get a satellite truck for the club, ideal for this type of operation.
The Coventry Amateur Radio Society are grateful to the current owners, The Ajub family, of Tony's birthplace
for their kind co-operation and generous hospitality, without which this event could not have taken place.
Grateful thanks to Greggs the Bakers for the supply of bread pudding, an essential ingredient of the Radio Ham sketch.
Originally was to be GB9TH unfortunately had to be changed to GB8TH due to an oversight G9 or GB9 callsigns are not usually in the amateur service, the are professional experimental call signs.