MW3HBM/P- Snowdon Activation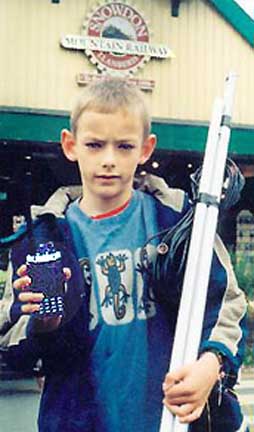 Joshua (M3HBM) was active on Snowdon on the 31st July 2005 as MW3HBM/P on 2 Metres FM.
His photo at Llanberis SMR station was taken before the ascent into cloud, on one of the worst July days that one railway guard could remember.
The equipment used was a Yaseu VX 150 handheld about 2 watts output into a non-commercial colinear on a 3metre mast. Railway regulations prohibited the larger gear with the 12 volt lead acid battery from being carried to the summit.
"Big signal" contacts were made into Lancashire & Yorkshire before Josh became uncomfortably cold.
I am sure a return will be made in better weather.
Prior to the event the best DX was VO1TA .This was on 20Mtrs using a 66' wire, no higher than 3metres off the ground from the depths of the Llanberis pass
shrouded by solid rock on 3 sides.
Unless proved otherwise Josh M3HBM is the youngest radio amateur to have activated the summit of Snowdon