---
G2FTK ~ Arthur's QSL Card - Return to Sender

Sadly, soon after tis event Arthur became SK in 2008
This page remains as written at the time.
A QSL card sent to W2BJQ, 55 years ago by Arthur Noakes, G2FTK, now president of the Coventry Amateur Radio Society, was spotted on Ebay by Andy G6ULX, and fellow Society member, Brian G8GMU, successfully bid for the card.
Some 3 weeks later, presented on President's Night, to Arthur by club Chairman Bob G4GEE. The card confirmed a CW contact made by G2FTK on the 22nd February, 1953 with W2BJQ.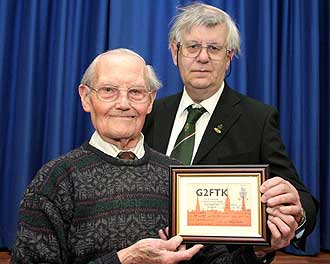 G2FTK Arthur Receiving his card from Bob G4GEE

Arthur was absolutely delighted with his novel & unexpected gift.

G2FTK was one of the founder members of the Coventry Amateur Radio Society, which was formed in 1932.

The rear of the card is of interest to vintage vehicle collectors, as it was printed by the Standard Motor Company. Quite a number of radio amateurs in & around Coventry in the 1950's, did have their QSL cards printed by 'The Standard'.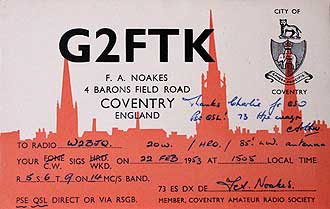 G2FTK QSL card to W2BJQ from 22nd February 1953
For a CW contact on 20 metres using 20 watts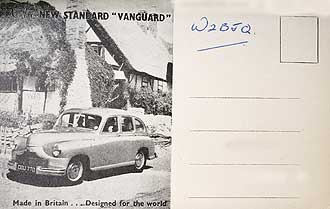 Rear of the QSL card depicting a prototype 1953 Standard Vanguard.

With Sir John Black in the front passenger seat.

Photographed in Stoneleigh Village Warwickshire.

Above information by Standard expert
Ian Jackson